Top Home Builders
Myrtle Beach Area Builders
2010 Top Builders
2009 Top Builders
2008 Top Builders
NC Builders Outside of Myrtle Beach
SC Builders Outside of Myrtle Beach


2011 Myrtle Beach, SC Top 10 Builders
including Horry and Georgetown Counties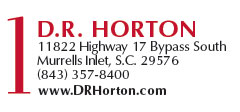 The nation's largest builder of new homes, D.R. Horton closed nearly 19,000 homes across the country in the 12-month period ending March 31, 2010. The company built its first neighborhood in the Dallas/Fort Worth area more than three decades ago. Based on its philosophy of providing livable floor plans, energy efficient features, solid warranties and a commitment to excellence in construction, it has grown from a local home builder to a regional home builder to America's top home builder.
Today, D.R. Horton, which is based in Fort Worth, builds new homes in 28 states, including Hawaii. The company remains a leader in the industry because of its design innovation, superior craftsmanship and responsiveness to the needs of its customers.
D.R. Horton builds homes across South Carolina, ranging from Charleston in the Lowcountry to Greenville in the Upstate, and in North Carolina, from Wilmington to Raleigh-Durham to Salem. D.R. Horton was founded in 1978 by Donald R. Horton.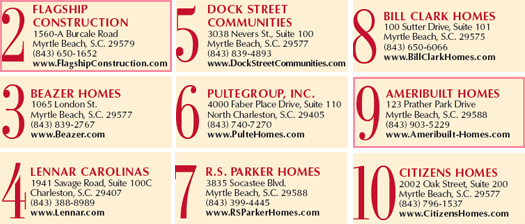 RANKINGS BASED ON TOTAL 2011
DEED TRANSFERS, AS REPORTED BY
MARKET OPPORTUNITY RESEARCH ENTERPRISE,
KNOWN AS THE M.O.R.E. REPORT