Top Home Builders
Myrtle Beach Area Builders
2010 Top Builders
2009 Top Builders
2008 Top Builders
NC Builders Outside of Myrtle Beach
SC Builders Outside of Myrtle Beach


Hilton Head Island Home Builders Top 10
including Bluffton and Southern Beaufort County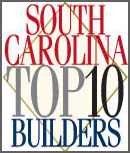 1. DEL WEBB
15 Sergeant Williams Jasper Blvd.
Bluffton, SC 29910
(843) 705-8700 . www.DelWebb.com
Every Del Webb home balances traditional features home-buyers have come to rely on with innovative building science that active adults couldn't have dreamed about years ago.
Satisfaction with Del Web is high, most likely because of the company's "7 Step Customer Care Program." Del Webb representatives and home-buyers get together at least five times between a pre-construction meeting and an 11-month follow-up visit.
Del Webb showcases state-of-the-art energy efficiencies from the front door to the tip of the attic, making its homes more comfortable and affordable to own.
In Bluffton, South Carolina, Del Webb has two communities to choose from. Prices at Sun City Hilton Head range between $169,990 and $313,990, while prices at The Haven at New Riverside are between $182,990 and $267,990.
2. PULTE HOME CORP.
Steve Schlageter, General Manager
138 King's Creek Drive
Bluffton, SC 29910
(843) 706-7193
www.KBHome.com
7. JCW QUALITY HOMES
Jerry C. Wardlaw,
Developer/Manager
30 Summer Hill Way
Richmond Hill, GA 31324
(912) 756-3255

3. D.R. HORTON
Ron Bunner, City Manager
10 Westbury Parkway, Suite A
Bluffton, SC 29910
(843) 706-3400
8. R. JONES
No Information
4. WEBB CONSTRUCTION
365 Red Cedar, Suite 404
Bluffton, SC 29910
(843) 757-7883

9. KB HOME
Jeff Meyer, Division President
4401 Belle Oaks Drive, Suite 280
North Charleston, SC 29405
(843) 576-6840
www.KBHome.com
5. B&B
No Information

10. H2 BUILDERS
Todd Hawk, CEO
40 Persimmon St., Suite 105
Bluffton, SC 29910
(843) 815-4642

6. CENTEX HOMES
Jill Staubach,
Division Marketing Manager
39 Sheridan Park Circle, Suite 3
Bluffton, SC 29910
(843) 815-3544
www.CentexHomes.com