Top Home Builders
Myrtle Beach Area Builders
2010 Top Builders
2009 Top Builders
2008 Top Builders
NC Builders Outside of Myrtle Beach
SC Builders Outside of Myrtle Beach


Charles Fox Homes, LTD, Ocean Isle Beach, NC
Young Designer Captures the Essence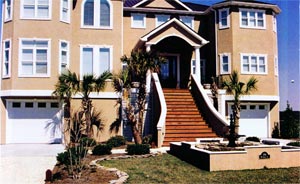 "Charles' love for the coast and the Carolinas trickles down into his creative design and the construction of custom homes. He enjoys the small community atmosphere that Ocean Isle Beach has to offer..."
It's not surprising that Charles Fox would end up in the home building business, considering his mother is in real estate and his father is a contractor. Nor is it surprising that Charles has a deep appreciation and love for the coast of the Carolinas, considering his family lived on Ocean Isle Beach since the mid-1950s, when they started Sloane Realty.
But what is most impressive is how much this dynamic young builder has already accomplished, building some extraordinary upscale homes at the ripe old age of 27. He is quickly gaining a solid reputation among people who crave distinctive homes that inspire and embrace their love for coastal living.
Charles' love for the coast and the Carolinas trickles down into his creative design and the construction of custom homes. He enjoys the small community atmosphere that Ocean Isle Beach has to offer; there is truly no where else he would rather live and work. After graduating in 1998, where he earned a bachelor of science degree in Construction Management, Charles returned to Ocean Isle Beach, took his licensing test and soon founded Charles Fox Homes, LTD.
He began his career by building the Kerry Lane Townhouses, which total 12,000 square feet. He also remodeled Sloane Realty, and, in the process, built and designed the unique characteristics of Stars Waterfront Cafe.
He continued by designing and building single-family beach cottages throughout the island, from canal to oceanfront. His work began to attract the attention of buyers looking for upscale homes, and he hasn't stopped building since.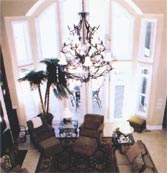 Now five years later, Charles has built a wide range of houses - everything from Low Country craftsman homes to contemporary and elegant island cottages. His design and building are extremely versatile, with price ranges starting from $200,000 to more than $1 million.
Though quantity is not his goal, Charles' business has continued to double every year. He built seven homes in 2002, and expects to build 15 this year. But he understands that quality must come first. And, although Charles primarily works in Ocean Isle Beach, he is on preferred building teams in Capeside, Thistle Downs and Brick Landing Plantation. He is also building custom homes in the Bent Tree Plantation and in the Shallotte River area.
A member of the Brunswick Home Builder's Association, one of Charles' strong suits is his ability to foster meaningful relationships with his clients that extend well beyond typical business dealings.
Charles believes that having an open and honest relationship with each homeowner is critical to the success of his business.
"The most vital ingredient to a successful building business is a happy and content homeowner," says Charles.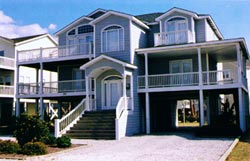 His love for creating and building is obvious in his final product. He encourages homeowners to explore the various aspects of a design and yet remain true to their vision of what they want their home to become.
In addition to his own crew, including the finest framers in the Carolinas, Charles has chosen and mobilized an impeccable team of subcontractors and specialty suppliers who excel not only in their crafts but also in their customer relations skills. When clients come in contact with any member of his team at construction sites, he wants them to be impressed not only with their craftsmanship but with their professionalism and communication skills, as well.
"It is essential to surround yourself with people who enjoy their work and take pride in creating perfection for our clients." he adds.
The team concept adds immensely to the unique character of each Charles Fox Home.
Jim Talton watched Charles build a home on Ocean Isle Beach for one of his friends. Something that particularly impressed Jim was the high level of awareness and interest which Charles exhibited in utilizing exterior materials that were as storm-resistant and maintenance free as possible. He was so impressed that he asked Charles to build him a two-story, 3,100 square foot, four bedroom, four-and-a-half-bath home with an office, large living and dining room area and large deck. Jim says he could not have had a more pleasant experience building a home.
Charles also made a positive impression on Donna Giles and Sue Sneddon when he built their rather unusual home with an almost circular design. Donna was so impressed that she volunteered to work Charles' booth at any home show at which he wanted to exhibit.
In spite of its complicated design, Charles made building their home a pleasant experience.