Top Home Builders
Myrtle Beach Area Builders
2010 Top Builders
2009 Top Builders
2008 Top Builders
NC Builders Outside of Myrtle Beach
SC Builders Outside of Myrtle Beach


2008 Myrtle Beach, SC Top 10 Builders
including Horry and Georgetown Counties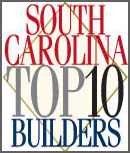 1. CENTEX HOMES
Now Merged with Pulte Homes
2050 Corporate Centre Drive, Suite 200
Myrtle Beach, SC 29577
(843) 839-2200
In August 2009, Centex Homes merged with Pulte Homes, creating the largest and best-positioned home-building corporation in the country and offering even more options to home-buyers in the company's top locations, such as Myrtle Beach, South Carolina.
When you choose Centex Homes, you are choosing more than 50 years of experience and a company that continues to receive recognition for excellence from its own industry and the financial community.
With its "back what we build" philosophy, Centex Homes offers a "Two-Year Fit-And-Finish Warranty," which extends the normal one-year coverage to two years at no extra cost. "Back what we build' is in addition to the company's 10-year structural warranty.
Centex Homes currently has nine neighborhoods for home-buyers to choose from in the Myrtle Beach area. For example, prices start at $116,990 at Wellington in Myrtle Beach and at $221,990 at Linksbrook in Murrells Inlet.
2. BEAZER HOMES
Mike Gaddy, Marketing Manager
1007 48th Avenue, Suite 110
Myrtle Beach, SC 29577
(843) 839-2767
7. BILL CLARK HOMES
Jeff Farrell, General Manager
100 Sutter Drive, Suite 101
Surfside Beach, SC 29575
(843) 650-6066
3. D.R. HORTON
Scott Floyd, City Manager
11822 Highway 17 Bypass S.
Murrells Inlet, SC 29576
(843) 357-8400
8. RSP BUILDERS
1700 Highway 9 E
Longs, SC 29568
(843) 399-1443
4. LENNAR CAROLINAS
Barry Sertle, Area Manager
950 48th Avenue North, Suite 102
Myrtle Beach, SC 29577
(843) 839-3822
9. AMERIBUILT HOMES
123 Prather Park Drive
Myrtle Beach, SC 29588
(843) 903-5229
5. FLAGSHIP CONSTRUCTION
Stan Parker, President
1260-A Burcale Road
Myrtle Beach, SC 29579
(843) 236-2800
10. BROOK CONSTRUCTION, LLC
PO Box 2101
Myrtle Beach, SC 29578
(843) 272-8700
6. RYLAND HOMES
Jennifer Pencarinha, New Home Sales Advisor
1113 44th Avenue
North Myrtle Beach, SC 29577
(843) 375-5553