Top Home Builders
Myrtle Beach Area Builders
2010 Top Builders
2009 Top Builders
2008 Top Builders
NC Builders Outside of Myrtle Beach
SC Builders Outside of Myrtle Beach


2008 Columbia SC Top 10 Home Builders
Richland County, Lexington County and Irmo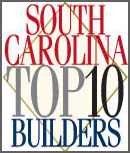 1. MUNGO HOMES
A Division of Mungo Companies
441 Western Lane
Irmo, SC 29063
(803) 749-9000 . www.MungoHomes.com
"We at Mungo Homes have a commitment to executing the highest quality homes at the median price point," explains Steven Mungo, chief executive officer of the Mungo Companies. "We also have the luxury of making decisions for the right reasons and not from a home office that is far away. We are a family-owned business and know a lot about the Columbia market because we were born and raised here."
In business since 1954, the Mungo family has been building affordable new homes in the Carolinas that offer quality, value and stability unparalleled by any other new home builder.
"We are a company with a big heart," that contributes to many philanthropic causes, Mungo adds. Currently, Mungo Homes has 16 communities in the Columbia market, with a wide selection available to home-buyers. Two of these, Spring Haven and Vintner's Wood, offer homes priced from $110,890 to $208,050.
2. ESSEX SE HOMES
Karl Haslinger, Owner
120 Cromwell Road
Lexington, SC 29073
(803) 356-8301
7. DR HORTON/TORREY
Jay Henderson, City Manager
250 Berryhill Road, Suite 100
Columbia, SC 29210
(803) 214-2000

3. FIRSTAR HOMES
425 Summit Terrace Court, Suite 2
Columbia, SC 29229
(803) 788-8029
8. KB HOME
Jeff Meyer, Division President
4401 Belle Oak Drive, Suite 290
North Charleston, SC 29405
(843) 576-6840
www.KBHome.com
4. HURRICANE CONSTRUCTION
Jose Romero, Owner
1049 Sunset Boulevard
Columbia, SC 29169
(803) 936-9686

9. EASTWOOD HOMES
Jason Fabrizio, Division President
1042 Legrand Blvd., Suite 4
Charleston, SC 29406
(843) 388-8087

5. NVR/RYMARC
Ernie Magaro Jr., President
3740 Fernandina Road, Suite A
Columbia, SC 29210
(803) 798-4900

10. FIRST COAST HOMES
Katie Varin, Marketing Manager
116 Shadybrook Drive
Summerville, SC 29483
(843) 266-3404

6. SHUMAKER HOMES
Dan M. Shumaker, President
5847 Shakespeare Road
Columbia, SC 29223
(803) 787-HOME