Myrtle Beach Neighborhoods
Near Myrtle Beach
Near Charleston


Retirement Information For North Carolina
Myrtle Beach Million Dollar Homes
Rental Central - NC Long Term Rentals
Carolina Forest, Myrtle Beach Homes
Myrtle Beach
Luxury Homes

Carolina Forest Real Estate

Southgate Homes in Carolina Forest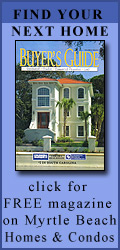 Parkland in Legends, Myrtle Beach, SC
Sunbelt Homes brings the outside in at Parkland
By Karen Paggi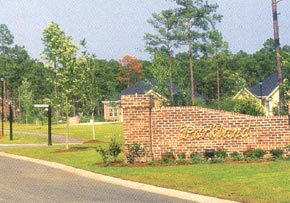 "Ninety-five percent of Parkland's spacious single family homes either overlook the golf course or have wooded views."
It all began with a compellingly beautiful piece of property that was to be meticulously transformed into one of the finest golf communities in the world. And today, by all accounts, the goal has been realized at Legends in Myrtle Beach, particularly within its newest course and community addition, Parkland.
Among the masterplanned 1,300 scenic acres of Legends, the superb selection of real estate opportunities complements the beauty of the land and grandeur of the three award-winning golf courses.
Parkland golf course is the final addition in "the trilogy" of superior golf designs and was inspired by "early American courses" like Augusta National and Pine Valley. Its tree-lined fairways, contoured, vast waste area, wetlands hazards, along with deep-faced bunkers, minimal rough and immense undulating greens make this par 72 the most difficult course in Legends. Playing the unforgettably challenging fairway and green side bunkering requires a deft touch off the tee and on the approach. From tee to green, strategy will be the order of the day.
Parkland's recent private residential enclaves boast beautifully designed custom homes. Tree-lined streets lead to Parkland's 323 spacious single family residential home sites with views that won't disappoint. Ninety-five percent of which either overlook the golf course or have wooded views and the exclusivity of the community will soon be punctuated with its own private clubhouse, which is to be complete by next season. A homebuyer has the freedom to elect to build his or her own dream home, purchase an existing home, or simply buy the home site and then build at a later time.
Because of its high-quality construction and good customer service, Sunbelt Homes was one of the original three approved companies to build in Parkland. Charles Flynn, owner of Sunbelt Homes explains the attraction of Parkland saying, "This community is set two miles away from the main road and will remain dense with pockets of the natural pine forest that once was here. Also, because the planners wanted larger lots and more natural surroundings, and due to the type of homes we build, homeowners can be surrounded by nature."
Many of his customers are active retirees who come from the Northeast wanting to relocate their primary residence. They desire quality homes with open living spaces inside and views of nature outside. "Our homes are primarily brick with side load garages and the yards are heavily landscaped," continues Flynn. "Because of the very large windows that overlook the greenways and 10 to 12 foot ceilings, the homes have a very open feeling that caters to those who enjoy golf course living. We help bring nature inside." Flynn describes popular features, saying, "Sizes of the homes ranges from 2,500 to 4,000 square feet. There are typically great rooms that flow into other living areas, plant ledges, very large bathrooms, a lot of tile and hardwood floor throughout and countertops are granite and zodiac." Indeed, the luxuriousness that Parkland's fortunate homeowners experience inside and outside their Sunbelt Homes is second to none.
Published from a previous issue of Carolina Homes & Interiors Magazine