Pools Plus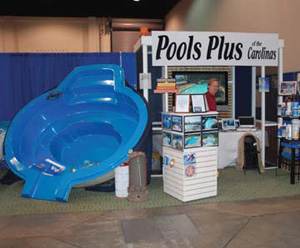 A built-in pool can provide hours of recreational activity, especially during the hot summer months. Pools Plus of the Carolinas, in business in Horry County, South Carolina, beginning in 1999, has installed more than 500 pools since Murray Willitts launched the company with his wife, Angel, who operates their store in Myrtle Beach.
Pools Plus of the Carolinas installs fiberglass and concrete pools, renovates and services both residential and commercial pools and builds screen enclosures.
"We have a lot of experience, and we also employ new technology that allows for easy maintenance and lower operating costs for our customers," Willitts explained.
Fibre Tech is one such item - a waterproof barrier that permanently adheres to concrete pools and is guaranteed to last for at least 25 years. Willitts pointed out that most of his clients with concrete pools are renovating with Fibre Tech because it is cost-effective and easy to maintain.
Willitts explained some of the main differences between fiberglass and concrete pools. For instance, if you want a specific design for your pool, concrete is the way to go. However, if you are more concerned about the operating costs and long-term maintenance, fiberglass should be your choice. Another factor to consider is that a concrete pool can take months to install, while a fiberglass installation typically can be completed in a matter of weeks.
"We often estimate a longer time frame on installation than other businesses, but that is because we wait for everything to settle prior to pouring the concrete deck," said Willitts. "We take pride in doing all work in-house and doing it properly."
"It used to be that most pools were concrete or had liners, but, in the last 10 years, fiberglass has taken the industry by storm," he added. "Pools Plus of the Carolinas has nearly 50 fiberglass models from which to choose, from three manufacturers: Caribbean Bay, Leisure and Riviera."
They all come with a 35-year-to-lifetime warranty from the manufacturer and a three-year bumper-to-bumper warranty from Pools Plus of the Carolinas. Willitts pointed out that his company has an in-house electrician, which is a huge bonus for his customers. He said some pool companies require their customers to hire their own electrician and obtain their own permits.
"We do everything from beginning to end, with no surprise fees," he said. "When I leave your property and give you a quote, that is the price you'll pay."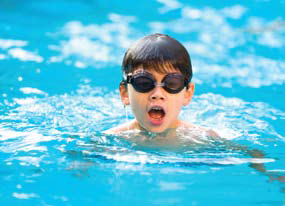 Caring for customers is a top priority for Pools Plus of the Carolinas. Jenn Boggs agreed that the company spends the time and effort to make sure its clients are happy.
"As an out-of-town homeowner, we knew we had to find a company to work with that was easy to communicate with and true to their word," she said. "We were very fortunate to have found Pools Plus of the Carolinas. Murray's team was consistently polite, conscientious, knowledgeable and responsive. Our end result was a beautiful pool area with a large poolside deck with a sprayed-concrete finish and beautiful tile work around our pool and raised hot tub. I would definitely recommend Murray and his team for your pool installation."
To learn more about Pools Plus of the Carolinas and the services the company offers, from heat pumps to saltwater generators, visit www.poolsplus.biz or call (843) 293-9515.